Cobh is a seaside town that has remained almost unchanged from its appearance in the early 1900s during the Edwardian era. Today, it is a popular destination for travelers from across the world. It boasts Ireland's lone cruise ship terminal and vessels can land their passengers in the town's center.
Tourism in Cobh is largely influenced by the tragic stories of the Lusitania and the Titanic. Known as Queenstown then, Cobh was the last stop before the infamous ship vanished into history. In 1915, when Lusitania was torpedoed both the dead and survivors were brought to Cobh. Learn about the impact of the Titanic's loss on this town by embarking on the Titanic Trail. You can also visit the Lusitania Memorial located in the center of town to pay your respect.
Go for a walk around Cobh once you are done walking in the wake of the legendary liners. Sightseeing around the town will show you brightly painted boats and houses contrasting with the deep blue sea. You can hire one of the boats for a tour of the harbor if it looks appealing to you. If you prefer to stay dry, you can explore Cobh on the Cobh Road Train. Make a stop at one of the many cafes and pubs scattered throughout the town and enjoy a pint of beer or a cup of coffee.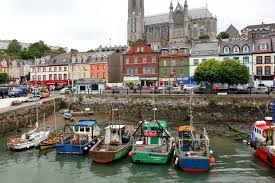 St. Colman's Cathedral is a French Gothic Cathedral perched on a hillside terrace just above Cobh. The 47-bell carillon is the cathedral's most exceptional feature with its range of 4 octaves. The biggest bells weigh about 3440kg, just as much as an adult elephant. If you arrive around May and September, you will hear the carillon on Sundays at 4.30 pm. While the construction of St. Colman's Cathedral started in 1868, it wasn't completed until 1915.
To learn more about this city's history, visit the Cobh Museum. Curious artifacts, photographs, paintings, and model ships tracing the history of Cobh fill this engaging museum. The museum is housed in the nineteenth-century Scottish Presbyterian church just overlooking the train station.
Spike Island is another great place to learn more about Cobh's history. It is a low-lying island in Cork Harbour and was once a critical part of the defenses of the ports. During the country's war of independence in the second half of the nineteenth century, it served as a prison. A guided tour of this island takes in the shells tore, the old punishment block, and the modern prison.